Public Used Car Auctions
Some people may not realize that many car auctions are open to the public. Dealer's licenses are not required at public car auctions, so buying vehicles at auction prices is possible for just about anyone. However, purchasing a car at auction is a bit different than buying a used car from a dealer or an individual. Here are a few tips to make the process a bit easier for first-time auction goers.
Consider Hiring a Consultant
Car auctions can be overwhelming, especially for inexperienced buyers and sellers. A professional consultant can help guide first-time-auctioneers toward smart decisions while simultaneously helping avoid mistakes. No one wants to buy a vehicle that becomes a money pit accidentally. Hiring an auction expert, at least for the first couple of auctions, may be a wise investment.
Do Your Homework
Before arriving at a public auction, it's a good idea for a buyer to know what to expect. Potential buyers should make sure to research all cars he or she is interested in. Google the serial numbers and VIN to ensure that everything on the vehicle matches. Consider having an expert inspect the vehicle thoroughly. Ask the seller why they are selling the car. Following these steps can help avoid headaches like finding two different serial numbers in the same vehicle after bringing it home.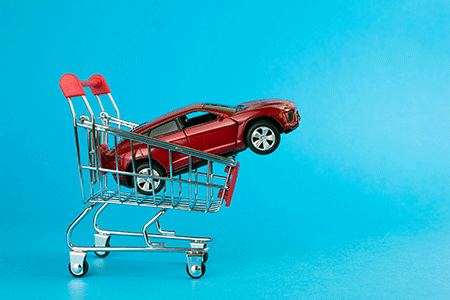 Patience is Key
When first arriving at the auction, make sure to take time to observe what's going on. What's the atmosphere like? What's the style of the auction? Who are the key players? Don't be so impatient as to bid on the first appealing car that comes on the auction block. There's no shame in asking lots of questions, especially the first few times at a car auction.
Set a Limit
Car auctions are exciting. So exciting that it's easy to get lost in the moment and make emotional decisions. Before heading to the auction lot, determine a dollar amount, and stick to it. This predetermination will help first-time (and experienced) auction goers avoid spending too much on a vehicle for sentimental reasons. Some experts even suggest that buyers write the number on their hands with a Sharpie as a reminder.
Observe Carefully
Public auctions can be an exercise in human psychology. Pay attention to the auctioneer. Is his or her voice and demeanor consistent? At what points does the auctioneer seem to waver? Hand signals are essential and can be hard to catch. Unless potential buyers are familiar with the auction process, this is a situation where a hired consultant is beneficial. It's much easier to maneuver through an auction if the buyer can decipher which offers are bluffs and which are genuine.
Test Drive the Car
Physically inspecting vehicles is essential for auction goers. Don't rely on the word of the seller or even a consultant. Get in the car and check it out. Most owners offer test drives, take them up on it before the auction starts. Listening to a cold start is also a good idea. Look out for rough starts, smoke out of the tailpipe, and odd sounds coming from the engine.
Read Everything
Make sure to read the fine print in the auto auction catalog. Copywriters are deft at minimizing flaws in used cars in the descriptions. The point of those catalogs is to sell cars, so be wary of flowery language and exaggeration in them. Again, ask questions.
Additionally, ensure that the budget allows for the auction house fees. Many auction houses charge a commission on vehicles purchased, and those commissions can be as high as twelve percent. Keep in mind that taxes also add to the cost of a car bought at auction. Having a substantial budget and plan before heading to the auction can eliminate unfortunate surprises after committing to purchasing a vehicle.
Let Others Bid First
No one wants to be the person who wants the car the most at a car auction. Let others bid on the vehicle first, even if it's a dream car. If there's a reserve on the car, let the bids work toward it. Making sure to bid only near the end of an auction can help prevent emotional decisions and overpaying for a vehicle. Some bidders may drive up the price of a car if they realize someone wants it. Avoid that by being patient and keeping cool until later in the auction.
Shorten the List
Go to the car auction with a list of exciting vehicles. Before the auction begins, thoroughly inspect each car. Take them on test drives, ask the owners questions, and make sure that VIN and serial numbers match up. By doing this, auction-goers should shorten their list of potential vehicles by eliminating the ones that do not meet their standards. Avoid adding cars to the list while at auction; this can lead to overspending.
Choose the Right Venue
Think of auction houses like realty companies. Different auction houses specialize in various types of vehicles. For example, some auction houses may only sell vehicles from repossessions, or they might only have specialty cars for sale. Make sure to choose an appropriate venue for the purpose in mind. If a buyer is looking for a reliable vehicle for everyday driving, an exotic race car auction may not be the best place for them.

Avoid Alcohol
Drinking a beer or two may help with the nerves before an auction, but it can also lead to emotional spending and bids. Avoid drinking any cocktails before purchasing that dream car. Funnily, the advice is often opposite for sellers at auction houses. Sellers are advised to keep the auction house liquored up to encourage the loosening of wallets. Keep that in mind when the auction bar looks appealing. It's supposed to.
No Options for Recourse After an Auction
The reason it is so critical to be prepared before buying a vehicle at auction is that there's no going back. Once a buyer has purchased a car, there's no way to rescind a bid or walk away from the deal unless someone committed fraud. The best piece of advice for inexperienced auction-goers? If unsure about a potential buy, walk away.