As much as we would like to use our hard-earned money wisely, it's not impossible to find a few stumbling blocks when looking for the best car deal. From overwhelming options to a sea of unfamiliar jargon, it's undeniable that purchasing a vehicle can get confusing and daunting at times. The good news is that online car auction lists can offer great savings, but it begs the question – how do you ensure that you're making the right move? The answer is vehicle history reports. These essential reports can go a long way. We delve into the importance of examining vehicle history reports before buying a car through online car auctions.
What Is a Vehicle History Report?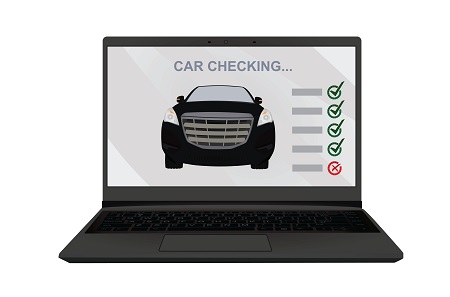 When it comes to purchasing or selling a used car, having a comprehensive understanding of its condition is crucial. This is where a vehicle history report comes into play, also called a vehicle condition report or inspection report. This detailed document offers a complete assessment of the car, including its general body condition and more intricate details like the presence of any interior odors. With today's technology, vehicle condition reports typically include visual aids such as pictures and diagrams to provide a full and thorough overview. This report is an essential part of listing a vehicle for sale or auction, and it also serves as documentation for a vehicle's pre- and post-servicing condition or before and after renting. With its many purposes, every car buyer or seller can benefit from obtaining a vehicle history report.
Why Auto Auctions Use Vehicle History Reports
As an automotive buyer, every purchase you make is a calculated risk. While the online market is full of alluring deals, the possibility of receiving a car in poor condition always looms in the back of your mind. This is where vehicle condition reports come in handy. Not only do they provide a detailed account of the vehicle's current state, but they also offer a reassuring level of transparency. Armed with this valuable information, you can confidently make an informed buying decision. Investing in a condition report minimizes the risks of buying a poorly used car and increases your chances of a successful transaction.
What to Look for in a Vehicle History Report
With an instant VIN report, you can enter a 17-digit VIN and access a wealth of information about the vehicle's history. This report will reveal many important facts:
The number of previous owners and the length of their ownership.
Provide the mileage history of the vehicle, ensuring you don't become a victim of odometer fraud.
It also reveals any damage or branded titles the car may have from any accidents that might have happened.
With over 100+ specifications on any vehicle manufactured listed, including the warranty status and safety rating, you can have a clear view of the vehicle's safety in case of an accident.
Insurance claims can significantly impact a car's resale value, so it's always better to be safe than sorry.
It's also important to find out if there are any outstanding recalls or safety concerns associated with the car.
Inspecting the records of annual safety checks and emission inspections can give you a better idea of the vehicle's overall health.
A thorough analysis of the car's service records. This documentation covers repairs, maintenance, and any upgrades that aren't typically included in the standard features.
Gather information on any missing parts and accessories that may not directly affect the car's drivability but can still make a significant difference in your overall driving experience.
A rundown of the tire condition can be a significant factor in determining the car's overall quality.
Where Do You Get a Vehicle History Report
Safety agencies such as your state's DMV, National Highway Transportation Safety Administration or the National Insurance Crime Bureau offer free VIN checks. These checks will provide you with basic information on the vehicle's title status and alert you if it has ever been listed as stolen or salvaged. While this information is helpful, it only scratches the surface of a vehicle's history. You may want to consider investing in a paid report for a more comprehensive report. For a relatively small fee, you can uncover crucial information such as flood damage, past owners, odometer rollbacks, airbag deployments, and any lingering liens held on the vehicle.
Benefits of a Vehicle History Report
Vehicle history reports provide incredible insight into a car's past, and the importance of knowing this information cannot be overstated. These reports are chock full of data gathered from multiple sources, detailing everything from accidents and damage to the number of previous owners and the car's registration history. Beyond that, vehicle history reports also contain a detailed maintenance history, which can be incredibly helpful for new owners. By knowing exactly what services have been performed and when you can gain a detailed understanding of how the vehicle has been taken care of over time.
Provides Information about Past Accidents
Accident history is a critical piece of data that should never be overlooked. Unfortunately, some sellers go to great lengths to cover up past accidents in order to make a sale. That's why a comprehensive vehicle history report is such a valuable tool. With a few clicks, VIN checkers, such as CARFAX, can give you a free VIN number check that lets you know if a car has been involved in any accidents and the extent of the damage. Don't take unnecessary risks when buying a car – take advantage of CARFAX's expertise and get all the information you need to make the best choice.
Gives Service History
A vehicle's service history can reveal a lot about the condition of the car and its overall performance. Regularly serviced cars have a greater chance of being in better shape and running smoothly than a vehicle its previous owner has ignored. From oil changes to brake inspections, well-maintained service history can give you the peace of mind you need when purchasing. With this information, you can make a more informed decision and drive away feeling confident in your choice.
Discover Hidden Problems
When purchasing a used vehicle, it's important to do your due diligence and uncover any potential issues that might not be immediately visible. This is where a vehicle history report can really come in handy. Not only can it reveal whether the car has been in any accidents, but it can also give you insights into the damage history, including the severity of the accidents. Knowing this information can help you make an informed decision about the condition of the vehicle. Additionally, a vehicle history report can provide details about the car's title and ownership history. For instance, it can highlight potential issues like salvage titles or previous liens, which may affect ownership.
Negotiate Price Based on Vehicles History Report
Before signing on the dotted line, it is crucial to arm yourself with all the relevant information pertaining to the vehicle you are interested in. Factors such as the number of previous owners and any past accidents – no matter how minor – will play a significant role in the car's overall value. A vehicle history report is an indispensable document in this regard, providing you with a comprehensive overview of the car's past. Understanding everything there is to know about a car will put you in a better position to negotiate a fair deal with confidence. Always remember that an informed purchase is a smart purchase.
Get Started Seeing Used Cars for Auction with Speed's Auto Auction
Looking for a great deal on a car? Look no further than our regular auto auctions in Portland with Speed's Auto Auction! For just $20, you can bid for an entire year, with a renewal fee of only $10. Every Tuesday, we open up viewing at 8:30 am before bidding starts at 10:00 am. Not able to make it to our auction day near Yamhill? No problem! We provide online bidding features with video streaming and live audio so you can be part of the action no matter where you are. And with an incredible selection of vehicles, friendly auctioneers, and regular prize drawings, why wouldn't you want to join in?
Don't miss out on your next ride – contact us today to learn more!
Visit our About Us page for more information about our auto auction.