Questions about Car Auctions? You're in the Right Place
Here at Speed's Auto Auction, we get a ton of questions from people just like you wondering about the process at an auto auction. Speed's Auto Auction is one of the largest car auctions in Clark County. Due to the spread of COVID-19, we have moved many of our activities to online auctions to keep both our employees and our clients safe.
Two Different Types of Auto Auctions
In general, there are two major types of car auctions open to the general public (you): government car auctions and public car auctions. Note that this doesn't include car auctions open to only licensed car dealers. Each state has its own requirements for car dealer licenses. If you plan on only buying vehicles for yourself, it's better for you to buy from car auctions open to the general public rather than obtaining a car dealer license.
Government Car Auctions
Government car auctions include vehicles such as buses, police cruisers, utility trucks, and more. Additionally, government car auctions may include vehicles that have been confiscated due to traffic violations or other crimes. Additionally, repossessed vehicles from banks and wholesale lots may crop up at government car auctions. Government car auctions are popular and you need a bit of experience to ensure that you don't pay more than market price for a vehicle.
Public Car Auctions
The other type of car auction available to the public is a public car auction, such as the auctions we run here at Speed's Auto Auction in Vancouver, Washington.
---
Do I Have to Pay Tax At a Car Auction in Oregon?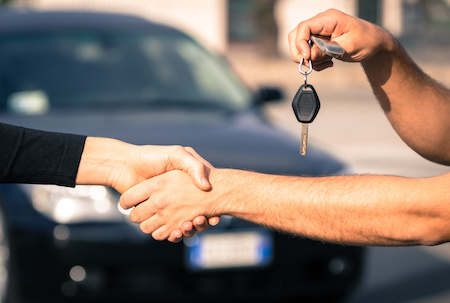 One of the most common questions people have about purchasing a vehicle at auction is whether they need to pay taxes on their purchase. The answer is: it depends. For example, if you are an Oregon resident and you purchase a vehicle at one of our auctions in Oregon, you do not have to pay the new vehicle tax that was enacted in 2017. The vehicle privilege tax applies to vehicles that:
Have 7,500 or fewer miles.
Weigh 26,000 pounds or less.
Have not been titled in Oregon.
However, keep in mind that the tax does not apply to all-terrain vehicles, vehicles sold to residents of other states (if primary use takes place outside of Oregon), vehicles sold for storage or use outside of Oregon, or vehicles sold at an event of fewer than seven days, provided admission is charged to enter and vehicles are sold at auction.
How Many Vehicles Can I Sell Without an Auto Dealer's License in Washington?
In Washington State, there are restrictions on how many vehicles you can sell without having an auto dealer's license, even at auction. The general rule in Washington is that you cannot sell any more than four vehicles without having an auto dealer's license.
Additionally, you are not allowed to title the vehicles in your name without paying sales tax or use tax. Washington State requires people who regularly buy and sell vehicles to register with the Department of Revenue. Once you register with the Department of Revenue, you can apply for a reseller permit. This reseller permit is used to purchase vehicles for resale without having to pay the sales tax or use tax as long as you do not title the vehicle in your name.
The Department of Revenue assumes that if you intend to sell vehicles three or more times in a calendar year that you are "regularly engaged" in the business of selling vehicles. The Department of Revenue may also establish this intent if you regularly advertise vehicles for sale online or in newspapers.
---
Ready for a Car Auction in Vancouver, WA?
At Speed's Towing Auction we have vehicles that come from multiple sources. Some of our vehicles have been donated from private parties, Oregon charities, and that have been impounded. By clicking on the Auction List tab, you can see our new list of vehicles each week. Each vehicle has a picture and more detailed information so that you can get a better idea of what you are bidding on, including the make and model of the vehicle, the year it was made, the VIN #, how much mileage it has, and information on the title. To get a closer look, click on the picture to enlarge it.
Every Monday, we are open for previewing from 10am to 2pm. Previewing starts at 8:00 am on Tuesday mornings and the auction begins at 8:30am. Get started now!