Car Auction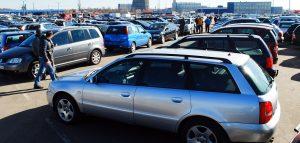 Speed's Auto Auction constantly gets in new and different vehicles for auction each week. The enormous number of cars in our ever-changing selection means there is always something to fit what you're looking for. Auctions deliver on great deals you won't find anywhere else. You can see the inventory online ahead of time and come bid in person—or even bid live, online. Get the car you want and spend less for it at our car auction near Vancouver, WA.
Car auctions offer an exciting opportunity to get more for your money. With new inventory each week, you can find the make, model, and features you want. We make the auction fun with give-a-ways, prizes, and food, so even if the car you wanted wasn't here this time, you still have a great time and won't leave empty-handed.
Super Inventory Car Auction near Vancouver, WA
Top Car Manufacturers:
Toyota
Ford
Lexus
Honda
Volkswagen
Nissan
Volvo
And more!
Car Auction Includes:
Cars that run
Cars that don't run
Wholesale cars
Donated cars
Repossessions
Impounds
Cars owned by a single person
And much more!
Other Vehicles Include:
Pick-Ups
SUV's
Mini-Vans
Motorcycles
Boats
Utility Trailers
Fleet Vehicles
And more!
You pay only an annual fee of $20.00 to come and enjoy as many auctions as you like. As one of the largest car auctions near Vancouver, WA, it shouldn't take long before you find the perfect car to meet your criteria. Whether you are a hobby-mechanic and want a car to tinker on, you're looking for a car to get around in from day to day, or you buy cars cheap to sell for more, our car auction has the vehicle for you.
Find the right truck or van to move large items around for your business. Get the classic car you've been wanting to refurbish. Buy something safe for your teenager with a new driver's license. We've got what you're looking for at our car auction near Vancouver, WA.

Common Online Car Auction Questions
What is an online car auction?
An online car auction is a platform where individuals or dealers can bid on vehicles that are being sold through an online auction. It is similar to traditional in-person car auctions, but all bidding and transactions take place online.
---
How can I participate in an online car auction?
To participate in an online car auction, you will first need to register for an account on the auction website. You will then be able to view the available vehicles, place bids, and monitor the status of your bids online. Some online car auctions may require a deposit or proof of funds before allowing you to bid.
---
What types of vehicles can I find at an online car auction?
You can find a wide variety of vehicles at online car auctions, including cars, trucks, SUVs, motorcycles, boats, and more. The vehicles available for auction may be new or used and may come from a variety of sources, such as repossessed vehicles, dealer trade-ins, or surplus government vehicles.
---
How do I know if the vehicle I am interested in is in good condition?
Most online car auctions provide detailed descriptions and photos of each vehicle, as well as information on its history, mileage, and condition. You may also have the option to inspect the vehicle in person or have a third-party inspection done before placing a bid.
---
What happens if I win a bid at an online car auction?
If you win a bid at an online car auction, you will be responsible for paying the winning bid amount, plus any additional fees or taxes, to the auction website. You will also be responsible for arranging for transportation or pickup of the vehicle. The specific terms and conditions of the auction will vary depending on the website and the auction itself, so be sure to read and understand all of the details before placing a bid.