What is a Salvage Vehicle?
Insurance companies typically label a car as "salvage" when the cost of repairing the vehicle exceeds its value. However, for some car enthusiasts, a salvage car presents an opportunity for hours of tinkering and a ton of money saved (especially when compared to purchasing a new vehicle). However, before committing to a salvage project, there are a few things to understand about the process of removing a salvage title in Oregon so that you can legally drive your fixer-upper on the streets.
How to Buy a Salvage Car and Drive It Legally
One of the problems involved when purchasing a salvage car at auction is that even if you fix it up, it still has a salvage title. Vehicles with salvage titles are not legal to drive on public roadways in Oregon. However, there are ways to repair a salvage car and make it legal to drive.
Transport the Vehicle
The first step to getting a salvage car to the point it can be driven legally is to transport the vehicle to your home or shop. You'll need to call a tow company to tow the vehicle so you can get to work.
Keep Diligent Records
One of the most important aspects of repairing a salvage car is the records you keep. As you proceed through the repair process, make sure to keep receipts and take photos of all the parts you purchase. It's also a good idea to take photos of your work as you complete it, as this may help when you visit the DMV to get an inspection and get a legal title. If you plan to resell the vehicle rather than drive it yourself, it's especially important to use high-quality parts and perform quality repairs that you can prove to the buyer. Many buyers are reluctant to purchase salvage vehicles, even if the repairs are excellent. Having solid proof to back up your claims of workmanship can go a long way to selling the car to a new owner.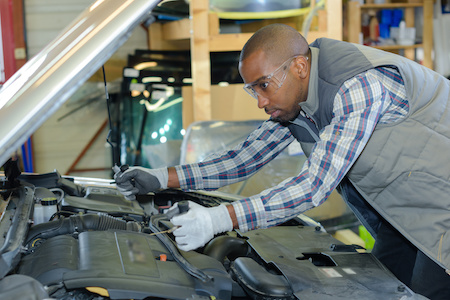 Meet the Requirements for a Rebuilt Title
In Oregon, the DMV has specific requirements when it comes to a rebuilt or repaired car with a salvage title. Among those requirements are:
An individual or independent mechanic must have rebuilt the vehicle. The manufacturer of the actual car or truck cannot have rebuilt it.
The vehicle should not have been built in a factory where the model year and the make of the car are actually already assigned to that factory.
The rebuilt car cannot be a replica of the original.
Once you have completed the work on the vehicle and are ready to apply for an Oregon title to replace the salvage title, there are required documents and fees. You have to mail in the documents as you cannot get a rebuilt title at the DMV in Oregon. Requirements for a rebuilt title include:
A completed application for title and registration;
the original odometer disclosure (if required);
the original title or salvage title;
original releases or bills of sale for major parts used;
original releases or bills of sale from any previous owners;
original lien releases from any previous security interest holders;
a completed assembled, reconstructed, or replica certification;
a vehicle identification number (VIN) inspection at drive-up locations or by appointment for $7; and
the appropriate title fee
Once you mail in all of the required documents, the Oregon DMV may take up to 10 weeks to provide the title and up to 5 weeks to provide the registration (the license plates). Be sure not to operate the vehicle on Oregon's roadways until it has a legal title and registration.
Ready to Buy a Fixer-Upper Vehicle?
If you're looking to buy a vehicle at auction for the purpose of fixing it up, look no further than Speed's Towing Auction for Lake Oswego residents and the greater Portland metro area. We are following all recommended guidelines concerning the COVID-19 crisis, and we are open for preview on Mondays from 10 am to 2pm and on Tuesdays from 8:30 am to 10am. Call today with any questions!