When most people think of salvage vehicles, they picture battered cars that have been in major accidents or are otherwise severely damaged. Insurance companies have deemed these vehicles too damaged to be worth repairing. Despite that, people still buy them. Why would someone buy a car that doesn't run or cannot be safely driven? Of course, buying a salvage vehicle is not for everyone, but people who buy them do so for several reasons. In this post, we'll break down a few facts about salvage cars, why people buy them, and why to consider buying them from a car auction.
What Makes a Vehicle "Salvage?"
A salvage vehicle is a total loss vehicle that has been damaged beyond repair or is too expensive to repair. If a car is totaled in an accident, it means the insurance company has determined that the cost of repairing the vehicle exceeds its value. The insurance company decides to label a vehicle a total loss, not the owner or the police. In most cases, the insurance company will take possession of the salvage vehicle and sell it to a salvage yard. The owner of the salvage vehicle will receive a payment from the insurance company for the value of the car.
Ask about the history of the vehicle. You should always try to get as much information as possible about a salvage vehicle before bidding on it. Ask the auction staff if they have any information about the vehicle's history, such as why it was declared a total loss.
Can You Fix Up a Salvage Vehicle?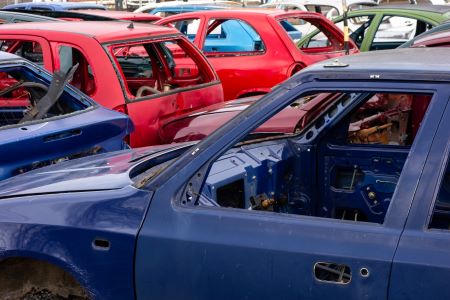 A salvage vehicle is a car that has been damaged and deemed too costly to repair. The damage can be extensive, and the cost of repairs may exceed the value of the vehicle. In some cases, a salvage vehicle may be repaired and put back on the road. However, it is more likely that the owner will sell the car for parts or scrap metal. Salvage vehicles are often sold at auction, and the prices can be very low. However, it is essential to remember that salvage vehicles may not be safe to drive and may not be worth repairing. Salvage vehicles cannot be driven on public roads and must be restored before they can be registered. Salvage vehicles must be inspected by an authorized inspection station in some states before you can repair them.
But for those willing to take on a little extra work, it can be a great way to get a great deal on a custom car. If you're looking for a "project car," this could be the place to start. With the right tools and a little bit of patience, some salvage vehicles can be rebuilt. In fact, many people who are passionate about cars enjoy the challenge of taking on a rebuild project. While it may take some time and effort, the end result can be a custom car that is truly one-of-a-kind. However, even the best quality repairs will not restore significant value to these cars; it's unlikely that you'll find a buyer for a rebuilt salvage vehicle.
Buying a Salvage Vehicle for Parts
The insurance company often declares a total loss when a car is severely damaged in an accident. These vehicles are then sold at auction, and their titles are branded as salvage. For some people, buying a salvage vehicle can be a great way to get cheap parts for their own car. However, there are also a few potential drawbacks to consider.
First of all, it can be challenging to find the right part for your car. Even if you know the make and model of the salvage vehicle, there's no guarantee that it will have the same engine or transmission. In addition, salvage vehicles may have hidden damage that is not immediately apparent. Even if they have a part you need, it could be too damaged to use. By taking the time to research the vehicle and inspect it carefully, you can help ensure that you're getting a good deal on quality parts.
Insurance companies typically sell salvage vehicles at auction following an accident or other damage. While the car's overall condition may not be ideal, the parts could be in good condition and can be used to repair or upgrade your own vehicle. Of course, it's essential to do your research before purchasing a salvage vehicle, as some parts may not be compatible with your car or may require extensive repairs. There could also be hidden damage to parts taken from a salvage car. But if you're willing to put in a little extra work, buying a salvage vehicle for parts can be a great way to save money on your next automotive project.
How to Find Salvage Vehicles
There are several ways to find salvage vehicles. One option is to search online auctions. Many websites list salvage vehicles that have been damaged in accidents or that have been declared salvage by insurance companies. Another option is to contact a salvage yard or scrap yard. These businesses purchase damaged vehicles and sell them for parts or scrap metal.
Auto auctions are a great way to find salvage vehicles at a fraction of the cost of buying them from a traditional dealer. However, before you bid on a salvage vehicle, it is essential to do your homework and know what you are getting into. The key to finding salvage vehicles at an auto auction is to know when and where the auctions are taking place.
Many auctions are open to the public, but some are only open to dealers. In addition, it is important to research the vehicles that will be up for auction in advance. This way, you can assess the damage and decide whether or not the car is worth bidding on. See if you can find an auto auction that allows bidders to preview vehicles before bidding starts. With a little bit of effort, you might just find great deals on salvage vehicles at an auto auction.
These individuals may be selling a vehicle that has been damaged in an accident or that they no longer want. Regardless of where you find a salvage vehicle, it is crucial to inspect the vehicle carefully before making a purchase. Salvage vehicles can be a great bargain upfront, but they will require significant repairs, and they come with no guarantee of ever becoming roadworthy again.
Check Out Speed's Auto Auction!
At Speed's Auto Auction, we hold an automotive auction event almost every Tuesday. We have a wide selection of cars available for auction, and we can even sell your car for you. With our diverse stock of bank repossessions, wholesale vehicles, and car donations, we might just have what you're looking for. Take a look around in our Auctions tab to see our list of items for auction and other details for future auctions, along with viewing times. If you have any additional questions, feel free to contact us. We hope to see you there!