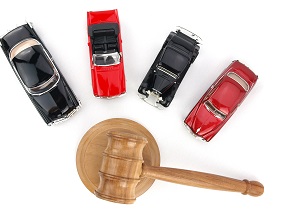 Auto auctions are a great way to find a good deal on a car, van, truck or other vehicle. Speed's Towing Auction  has auction vehicles that come from a variety of sources such as donations from charities, private parties, or from impound lots. While at one time bidders needed to be in attendance to bid on a vehicle, with advancing technology, bidding can now be done online as well as onsite. Online bids can be made before the auction with Pre-auction bidding or during the auction with special software that allows for live streaming and bidding. Each one of these types of bidding has distinct advantages and disadvantages, and depending on your circumstances, one type might work best for you.
Attending a Live Auction
This is the standard way of bidding. To attend a live auction, you need to show up at the auction site in-person and bid on your vehicle when it comes up for auction. It can be difficult to attend a live auction due to the specific time of the auction conflicting with work or other responsibilities.  Auctions can also be a time-consuming process, but coming in person has distinct advantages as well.
First, you can see the vehicle in person.
While auctioneers try their best to give an accurate representation in photos, sometimes due to lighting or other restrictions, a vehicle looks different in person than it does from a picture. The best way to make sure a vehicle matches what you're looking for is to come and see it for yourself. This way, there are no surprises and you know exactly how it looks when it's time to bid on it.
Second, you have the opportunity to inspect vehicles as part of many auctions.
Often, there is a time set aside before an auction to look at a car you want to bid on and make sure it works properly. Vehicles are generally split into categories that show if and how they run and/or drive. Generally, there will be a section of vehicles that don't run, another section for those that run but with problems, and a section for cars that run and drive. It's important to bid on the type of car you're familiar with and can deal with. If you aren't an experienced mechanic, a sleek-looking SUV that runs with problems might sound like a tempting deal, but if you don't know what you're doing it can be a costly mistake. However, if you're looking for a parts car or something you know how to fix, you likely won't find a better deal than an auction.
Third, many auctions allow you to start up the car yourself.
Being on-site means that you have the opportunity to get a feel for how the vehicle runs. Maybe a car runs better than you thought and you decide to try bidding on it, or perhaps you're a little worried by an unusual noise and decide to pass. Being at the auction in-person is the best way to accurately judge the condition of a vehicle.
Use caution when attending live auctions.
However, besides the time-constraints, there is another disadvantage to attending an auction in person. Many of the people bidding on-site are experienced buyers familiar with the process. If you haven't been to an auction before, being in the crowd can be intimidating. And if you're unfamiliar with the environment, you may even bid accidentally.
Pre-Auction Bidding
If you know exactly what you're looking for and don't want to attend a full auction to bid on a single item, making a pre-auction bid might be your best choice. Pre-auction or absentee bids are bids placed before the auction with a pre-set maximum price.There are two major advantages to pre-auction bidding.
The first is that you don't have to worry about attending at a specific time.
The bid is made without you needing to be present. This can be a good choice if you need a hard-to-find or discontinued part from a specific vehicle and an identical model comes up in an auction. You know that the car you're bidding on is the only one you want, and you know how much you're willing to pay for it.
Second, most auto auctions won't let you outbid yourself.
For example, if you make a pre-auction bid on a truck and your maximum bid is 500 dollars but bidding stops at $250, the truck is yours at $250. Just be sure to check the auctioneer's policy and make sure that absentee bids don't start at the maximum bid. Otherwise, you may end up paying much more than you would have had you attended live.
Online Auctions with Live Stream
Much like attending an auction in person, some auctions have live-streaming for online attendees. Usually, this requires software that allows for simultaneous streaming and bidding with the click of a button.
Online bidding is live, but you can bid from home.
The advantage of online auctions is that you can bid on vehicles in real time without having to physically be present on-site. This allows you to quickly make decisions for bidding on a vehicle you were on the fence about or increasing your maximum bid on the spot. It's also less likely that you'll accidentally bid on an item since you have to physically click on the bid button for your bid to go through—pointing at the screen won't count. If you're an excitable, animated person, this kind of bidding could make sure you don't accidentally bid a couple of thousand dollars on a shiny Mercedes you couldn't help but point out.
Choose the kind of auction that fits your needs
Now that you know the different ways you can bid at an auto auction, you should be able to decide what style best fits your needs. If you're new and testing the waters or need to try out a variety of vehicles, making time to physically attend might be your best bet. But if you already know what you want and how much you're willing to pay, an online pre-auction or live bid can save you the headache of driving to the lot—just make sure you pay for and pick up your vehicle within the allotted time if you win.