Where do Car Auctions Get Their Inventory?
Whether you're a used car dealer looking to fill in gaps in your lot, a tinkerer looking for a project car, or just want to see how car auctions work, Speed's Auto Auction has what you're looking for.
With new inventory every week, Speed's has a lot to choose from. Our cars come from a variety of sources – police impounds, bank repossessions, charities, private owners, dealerships, car rental companies, and insurance companies.
Sometimes cars end up at auctions because they've suffered cosmetic damage, but the engine is in perfect shape. So, there's a very good chance you'll find a car in great condition at a lower price than what a private seller would ask.
---
Vehicle auctions are a great option for both buyers and sellers
If a car costs more to fix than it is worth, owners will opt to auction it instead of listing it for sale. The advantage is that the owner doesn't have to deal with finicky buyers and is guaranteed some sort of payout. Most importantly, auctions open up a second chance for cars that are too much trouble to sell otherwise.
However, totaled vehicles are only a fraction of what Speed's has in their inventory. Cars in all kinds of conditions become available either through our online auction or on-site near Tualatin. Bidders can find vehicles with only a few thousand miles on the odometer but, say, only some minor, repairable damage. On the other hand, bidders can find cars with high mileage, but the body is in pristine condition.
Speed's offers bidders a chance to find used vehicles at a lower price than used car lots are willing to offer. However, there are some important factors to consider if you've never been to a car auction.
---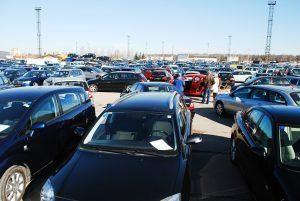 How to Prepare For an Auto Auction: 10 Things to Know
 Read the rules and FAQs
Know that there is a 17 percent buyer's fee on all vehicles
All vehicles are sold as-is
Prepare to take the car home with you the same day (i.e. arrange for a tow service if you get a non-runner)
Our auctions take place every Tuesday at 10 am
Vehicle previews take place from 8:45 am to 9:45
Registration to participate in our auction is $10 and good for one year
Once the bidding starts, the car in question will have a neon orange cone on it
Full payment will be expected immediately after the auction
You cannot perform repairs (beyond a tire change) on our property in order to get the car started
---
Find Cheap Vehicles in All Conditions at the Tualatin Car Auction
Bidders can find cheap cars of all makes, models, and years at Speed's Auto Auction. Contact us if you're looking for:

Runners
Non-Runners
Wholesale Cars
Donations
Reposessions
Impounds
Private Party Vehicles
Trucks
SUVs
Minivans
Boats
Motorcycles
Fleet Vehicles
Trailers
---
Car Auctions: A Great Way for Tualatin Drivers, Tinkerers, and Used Car Dealers to Find Affordable Used Cars
If you are a seller looking to auction your vehicle, call us on Wednesdays to see if there are any openings. If you are interested in bidding on a used car, read our bidding info page or contact us for more information on how our auction events work. We also offer online bidding. See our online bidding info page to learn more about it.